Two days ago, the Indie Bundle for Palestinian Aid launched on itch.io, and it's already raised over $300,000 for the United Nations Relief and Works Agency at the time that I'm writing this. My own game Take A Hike! is included, along with over a thousand other video games, tabletop games, assets, soundtracks, and even a few books. Today's entry of my short reviews series is just a tiny taste of some of the visual novels you can get in this amazing bundle! Also, three out of the five I tried first ended up having nice hand-drawn aesthetics, so that's sort of the secondary theme today.
Grumpy Librarian
I absolutely loved this one—it managed to hit on several story elements I particularly enjoy with its concept of an academic librarian struggling to follow a series of absurd and magical rules in deciding which students and professors are allowed to check out which books. Keeping track of all the rules is really difficult at first, but by the end, I was totally getting the hang of it! There were a few parts of it that seemed like they might be more frustrating than intended, like the necessity of picking which half of the rules you're referring to first before the rest of the menu opens up, but little issues like that are definitely understandable when it was a project for a one-week game jam. It just means I'd be especially happy if the developer ever released an updated version with a little bit more polish and some quality of life improvements! I'll be keeping an eye on classheikki's work in the future for sure.
When We First Met
This short story about two young girls beginning a lifelong friendship includes some fun point-and-click exploration elements, and I was especially impressed with the overall atmosphere, as well as a few little animations that really brought it all to life. One minor warning for my fellow fast readers out there is that you shouldn't set the text speed to instant for this one, or else some parts of the dialogue that play around with having one character cut another off will be kind of broken—but it's also always easy to check the history screen if you miss anything. There's a bit of a sequel hook at the end that made me really intrigued to see where the rest of the story goes, so Mado is another developer I'll definitely be following for future updates!
Conversations With My Anxiety
The title of this one made me think it was going to be a Serious Mental Health Game, but it turns out it's actually more of a comedy, following a young man through several misadventures on a potentially disastrous first date and exploring an inner dialogue with the more anxious side of him when he starts to freak out about it all. As someone with my own anxiety issues as well as plenty of awkward first dates in my past, I found it really funny and relatable! I loved the cast of bizarre characters, especially oversharing rideshare driver Jordy. I honestly wouldn't mind having him drive me to my next date once things like that are possible again.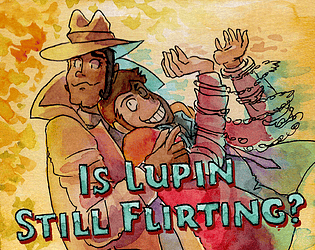 Is Lupin Still Flirting?
I had already been meaning to read this Lupin III fan VN sometime, since I've really enjoyed the previous work of developer Alexis Royce (including Full Service Shop, which I reviewed in another post like this a while ago). I'm only really familiar with Lupin & co. from the Castle of Cagliostro movie, but from my limited knowledge, Alexis seems to have captured the characters and their general vibe very well. There's a lot of really funny and cute dialogue between Lupin and his rival Zenigata, as well as some truly fantastic and expressive visuals. Whether you're a big Lupin III fan or not, it's worth spending a bit of time to check this one out.
Good Lookin' Home Cookin'
Finally, I didn't want to miss the bundle's inclusion from Toadhouse Games, whose founder Alanna Linayre was the main organizer of this whole thing! Thanks, Alanna! Good Lookin' Home Cookin' tells the story of childhood best friends struggling to start a small business together, and also serves as an introduction to some of the characters and settings of Toadhouse's upcoming project Call Me Cera. It was especially nice to see this game's rare representation of a Muslim character celebrating Ramadan, which taught me a little bit I didn't know before! I was kind of expecting a cute little slice-of-life story from this one, so I was surprised when it turned out to center around a pretty intense conflict between the two friends, but play your cards right and everything can turn out fine in the end. I'm looking forward to seeing more of Jessica, Amira, and the others in their community in Call Me Cera!
And there are so many more fantastic games (and other items) in the bundle that I would never have enough time to cover them all (although just offhand, a few more I've personally enjoyed in the past are Kindling Spirits, Order A Pizza, and the action platformer They Bleed Pixels!). Donate if you can to support the great cause of food & health assistance for the people of Palestine, and to add an astonishing amount of unique creative projects to your library. I'm really proud to be a part of this one.